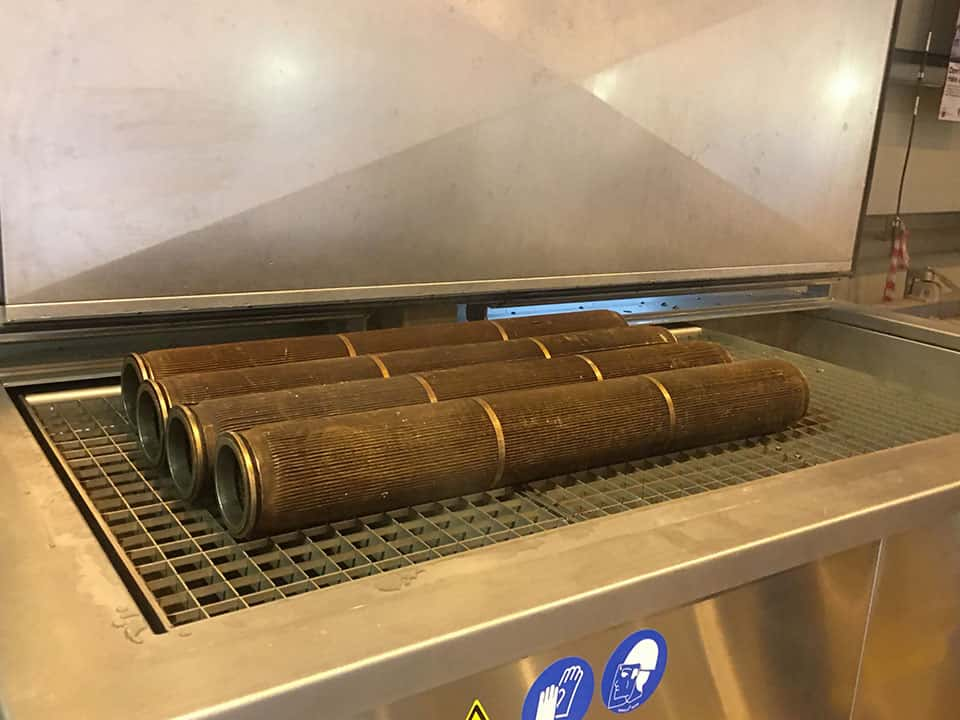 ULTRASONIC CLEANING SOLUTIONS TO REMOVE HYDROCARBONS, SCALE AND OTHER PETROCHEMICAL AND REFINERY PROCESS FOULANTS
In the sector of Oil and Gas our high power ultrasonic cleaning brings great benefit to customers. Our powerful cavitation together with targeted chemistries is eliminating heavy contaminants from production and process equipment. Ultratecno equipment effectively removes all forms of hydrocarbon contamination and refinery-grade by-products from any surface.
Ultratecno has a solution for big variety of parts. For common refinery maintenance our Ultrasonic tank from ACM series is usual located in the plant's maintenance workshop and is daily used for cleaning of all type of metal components including smaller heat exchangers, cleaning filters and components of extraction, filters of chimney, shells, valves etc.
During the shutdown maintenance ultrasonic equipment can be used for cleaning of large process components. One of the most common uses is heat exchanger fouling cleaning. Ultratecno has developed transportable autonomous ultrasonic cleaning vessel CCM – Container cleaning machine which can be temporarily located at the customer's site during the maintenance stop.  This container fitted ultrasonic tank is prepared for outside use thanks to do autonomous power generation and weather resistant construction. Thanks to this features shell and tube heat exchanger fouling can be removed also from the biggest parts during the refinery maintenance break.
Compared with traditional hydroblasting method used for heat exchanger maintenance, ultrasonic heat exchanger cleaning provides considerable water, labor and energy savings.
For example conventional hydro-jetting can use over 20,000 liters of water per one heat exchanger unit; furthermore all the used water needs to be treatment. In case of ultrasonic cleaning process used water is contained in a tank and changed out only after cleaning of several bundles. Ultrasonic cleaning method cannot damage the surface as high pressure jetting and also reduces safety concern compared to high pressure cleaning method.
Petro-chemical plants maintenance
Industrial cleaning
Offshore activities
Onshore activities
Shut-down cleaning activities
Emergency clean-up
Heavy oils
Bitumen
Grease
Scale
Rust
Other refinery-grade contaminants from large and small scale processing equipment.