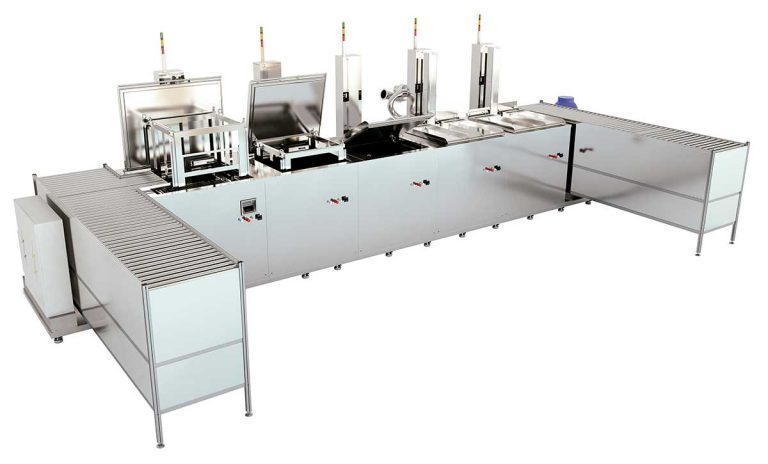 UltraTecno is a highly specialized company in the development and distribution of multi-stage systems to carry out different industrial ultrasound cleaning processes such as polishing paste removal, degreasing, and chip removal after machining or stamping processes, pain stripping, etc.
Our multistage ultrasonic installations can be equipped with:
– Ultrasonic Cleaning, with optional pneumatic agitation for higher performance in demanding applications.
– One or more rinse steps in reverse cascade arrangement, including optional active carbon filter or use of demineralized water for perfect finishes.
– Protection against corrosion with passivating or phosphate baths, or water-repellent oil immersion bath.
– Hot air drying cyclone.
Our solutions will clean parts delicately and thoroughly, offering perfect results.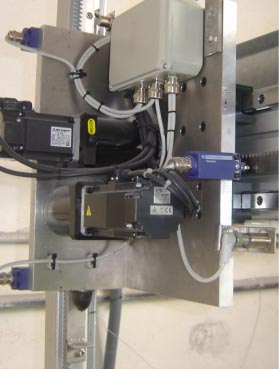 ROBOTIZED SYSTEMS
Some projects require automatization in order to reduce the labour costs and therefore best prices.
UltraTecno specializes in the manufacturing of 100% automated equipment with the capability to operate round the clock, with stoppages only for the replacement of baths.  Our cleaning record is 110,000 aluminium tubes per day. Our turnkey projects offer high-quality parts, and meet 100% of our customers' technical specifications. 
Our company certainly benefits from a long experience offering ultrasonic cleaningequipment, and ultrasonic washing solutions.  UltraTecno has devoted many years to the development of new applications for ultrasonic machines that meet the needs of different industrial processes.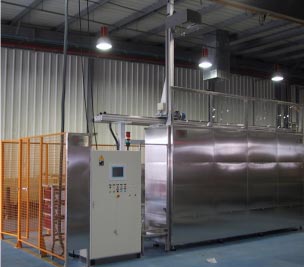 In this sense, ultrasonic technology is the perfect tool to achieve top-quality results with reduced energy consumption, increasing the effectiveness of the production process of any industry.
Don't hesitate any longer and place your trust in UltraTecno.  You will rely on experienced professionals with the best equipment to guarantee complete advisory services.  If you need more information, please don't hesitate to contact us.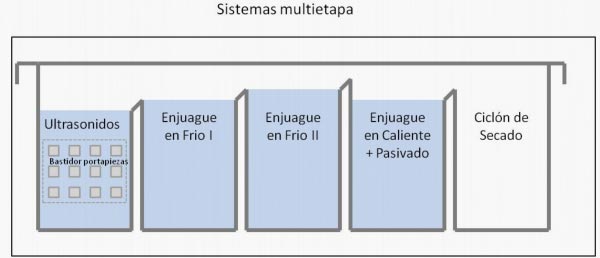 Avoids high labour costs.
Increases plant productivity, and capacity
Removes any kind of dirt including even below 20 micron.
Extreme cleaning homogeneity.
Shorter cleaning cycles than other cleaning systems.
Greater ease of automation of entry and exit points of tooling.
Design of customized tooling for any type of material and geometry.
Reduces the consumption of detergents and chemical products.
Minimizes rejections of production series due to quality.
Total automation of dosages of chemical products and maximum annual time availability