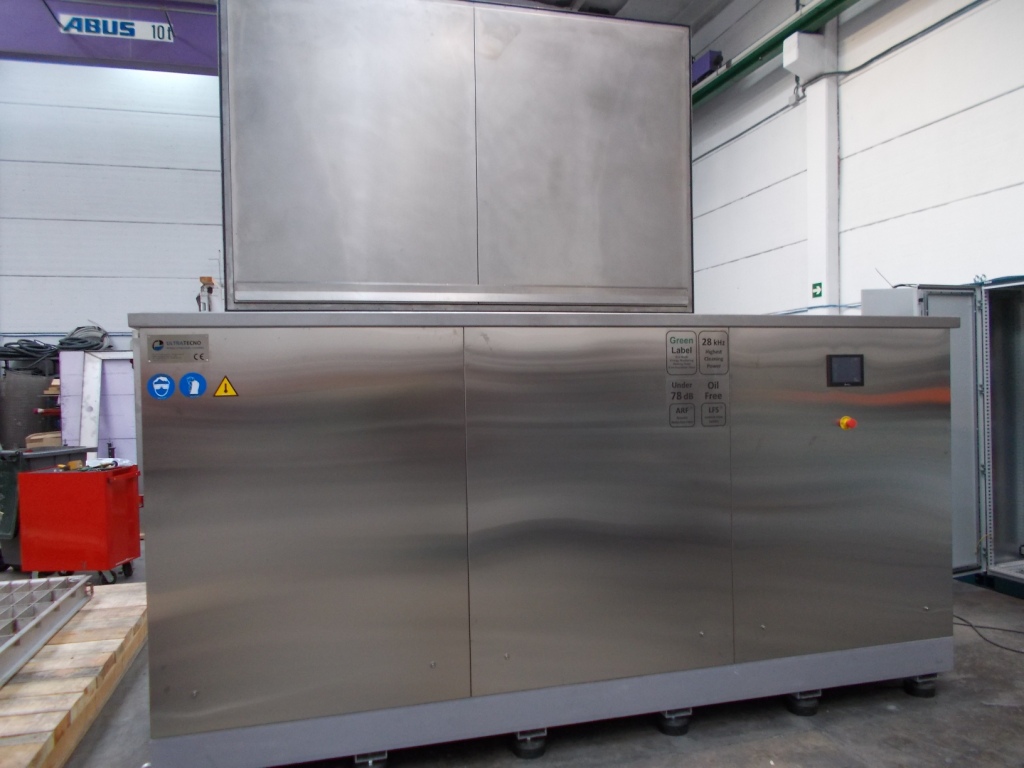 UltraTecno has dedicated more than half a century to meet the specific needs of each and every one of our clients.  We are leaders in the ultrasonic cleaning system field, and worldwide pioneers in the use of this innovative cleaning technique for industrial parts and components.  Unlike traditional cleaning methods, ultrasonic cleaning with an ultrasonic tank provides the best results, and without causing any damage to the parts.
We offer you a complete range of industrial cleaning systems. Contact us and discover our unbeatable services.
H2 Ultrasonic cleaning tank
Our ultrasonic cleaning tanks for sale have various capabilities, in order to provide a tailored response to the needs of our regular customers.  Our smallest model has 26.4 gallons of capacity, and its elevator platform is capable to lift up to 110.2 pounds of weight.  On the contrary, our largest model can contain up to 317 gallons, and lift up to 2,645.5 pounds.  We also have more than twenty models with different capabilities.
Likewise, UltraTecno offers the possibility to design and manufacture your customized ultrasonic cleaning tank to clients with special needs, as ultrasonic cleaning tanks complying with very specific conditions and requirements.
By purely functional reasons, each ultrasonic tank designed by our company is manufactured exclusively using 2 mm stainless steel in the barrels, to reduce the risk of ultrasonic erosion. Thus, the system provides homogeneous cleaning, and ensures a much longer useful life than using cheaper materials.
In all our ultrasound cleaning systems, in addition to the main tank into which the parts to be cleaned are submerged, the residues and floating dirt are separated from the part in an auxiliary tank during the process.  Like this, the dirt is more easily removed, so that the part comes out completely sparkling clean, and the operator in charge of said activity can separate the auxiliary tank and deposit its content in a clean area.
Finally, the ultrasonic cleaner of tanks accumulates the dirt in the bottom of the tank, so that the operator can easily perform the cleaning task.
Do not hesitate any longer and contact our technical representatives if you still have any doubt, or for more information about our ultrasonic cleaning tank for sale.  UltraTecno will provide you with accurate information on the products you are looking to purchase.