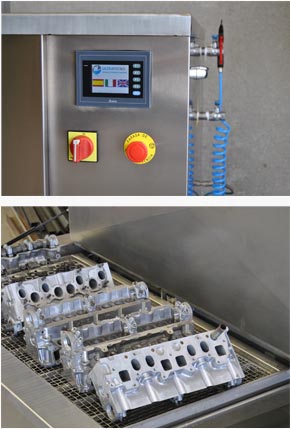 UltraTecno Automatic Cleaning Machines have been specially designed and built to eliminate high amounts of adherent dirt.
We are ultrasonic cleaning machine manufacturers specialized in equipment from 100 up to 12,000 litres and in low-frequency equipment (25-28 kHz) with the highest cleaning power.  The 28 kHz cavitation frequency allows to generate bigger sized bubbles, releasing more power, increasing the cleaning effect, and therefore a better performance and a lower time cycle.
To select the appropriate model from our wide range of products, and to obtain better results, please respect the maximum workload of ultrasonic machines.  In order to improve performance of ultrasonic washer machines with a smooth dissemination of ultrasound, the distance of the load to the interior of the tank wall or the water surface must be of 10 cm as a minimum.
The parts must be separated during the ultrasonic cleaner machine treatment to allow the dissemination of ultrasound and the achievement of results.
The cleaning process lasts between 10 and 45 minutes, depending on the type and amount of dirt to be eliminated, the material of the parts, the cleaning product used, the loading capacity, and water temperature (which can be adjusted up to 90ºC).  The cleaning process is carried out automatically without requiring the presence of the operator.
Ultrasonic cleaning machines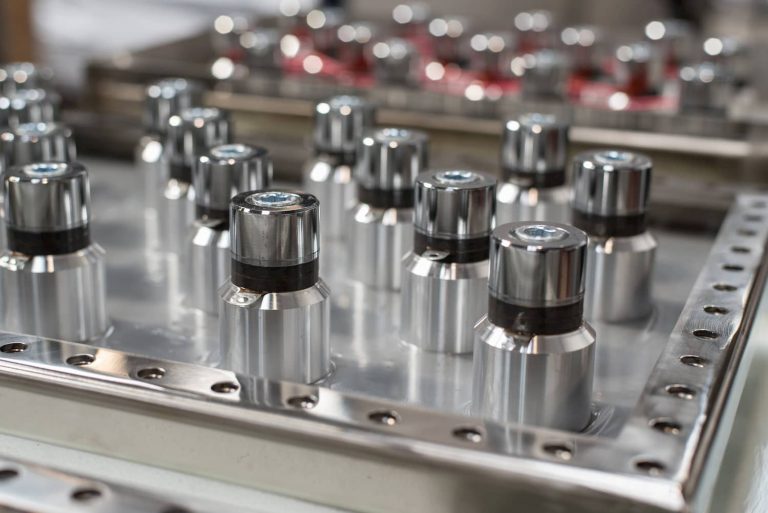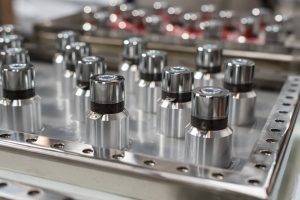 Construction
100% Stainless Steel Construction
All our machines are completely built in stainless steel.  Our thorough quality controls ensure the non-existence of leaks.
Our transducers
UltraTecno equipment incorporate our exclusive ultrasonic plates.  These plates have more than 25% thickness in relation to conventional technology, reducing substantially the risk of ultrasonic erosion and cracks in the metal surface caused by fatigue, and providing a more uniform cleaning.
28 kHz Digital Generators
Digital Generator of High-Power Ultrasounds:  the generator delivers effective sonic power at a frequency of 28 kHz, ensuring the best results in industrial applications. It includes 8 flushing programs with configurable frequency (±2%) to optimize the operation of each transducer.
Heating
The heating system is used to potentiate the cavitation process and improves the solubility of the dirt and grease in the water.
Complete Thermal Insulation
Our equipment are fully insulated (including the cover) to avoid heat losses, and to ensure that the work temperature is quickly reached.
Laminar Flow Separation System (LFSS)
After the dirt and grease are extracted from the parts, they must be removed from the main barrel.  Our patented Laminar Flow Separation System (LFSS) carries the floating grease to an auxiliary deposit where it can be easily removed.
7" Multilingual Colour Touch Screen
It allows easy control of equipment including Automatic mode, with a maximum of 3 pre-set cycles. No human supervision is needed during the cleaning process.  The user can configure all the parameters of the machines for optimal performance.
Elevator Tray
The parts are easily placed on the tray for its cleaning.  The tray is activated pneumatically/hydraulically.  Our range includes operation loads of up to 1,500 kg.  Higher capacities available upon request.
Advantages of our equipment:
ACM Series are high-power equipment, specially designed for industries where powerful cavitation for decarbonisation or elimination of incrustations is required
Our low-frequency digital and synchronized technology (28 kHz) makes us market leaders.
In addition, our equipment consume low levels of electricity and detergents, which means annual cost savings of 2,000-4,000 euros in operation costs. Our main benefits are:
Pneumatic elevator (accelerates and visibly improves the cleaning process).

28 kHz Digital generators and high-power density of cleaning tanks.

  

This technology is critical in decarbonisation processes.
Green Label Seal to obtain a significant amount of annual energy savings.

  

Thermal insulators and robust cover for daily heating consumption.

LFS oil separator to maintain the water clean and extend the useful life of the detergent.

Exclusive and patented ARF system which reduces 90% of acoustic emission (below 78 dB (A)).

  

Enjoy all the power of 28 KHz low-frequency technology without fear of noisy machinery.
7" Large Multilingual Touch Screen with maintenance modules, configuration, detergent dosage, etc.

28 kHz Type 1 Piezoelectric transducer manufactured with our exclusive wall fixation system to guarantee 100% energy transmission.

Digital and synchronized generators with frequency modulation to obtain the maximum performance of each transducer and ensure uniform cleaning.

  

This technology is critical in decarbonisation processes.

High-performance specific detergents for each type of material and application
Manufactured in Europe.  Ensured availability of spare parts.
2 years of guarantee.
Inquire the price of ultrasonic cleaning machine