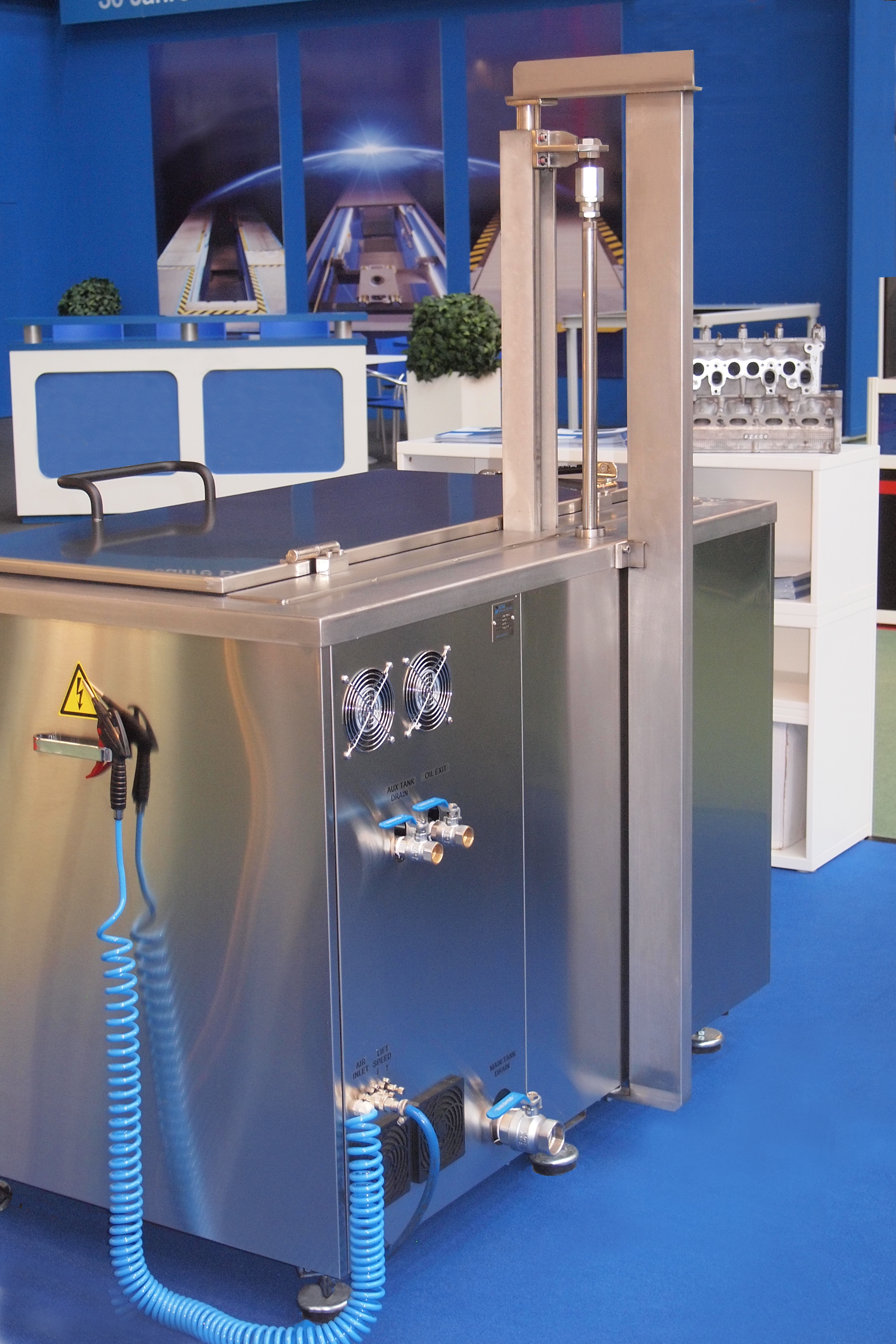 UltraTecno has become an indisputable leader in the industrial cleaning field for over 50 years, specializing in the design and manufacture of all types of ultrasonic cleaning of industrial parts.
We provide services to the most important sectors of the country:  automotive, aeronautics, railway, shipping, mining, energy and also the food industry.  Each ultrasonic parts washer is capable to carry out the cleaning of a large variety of parts.  Big size sonic parts cleaners are not a problem, since we can manufacture large-scale tanks.  But even then, UltraTecno offers different models of ultrasonic parts cleaner for sale.  Models whose capacity range is from 100 to 12,000 litres and which can also lift weight from 50 to 2,100 kilos.
Even if the needs of our clients are not included in our catalogue, UltraTecno offers the possibility to design and manufacture a customized ultrasonic parts washer.
Ultrasonic cleaner cleaning solution
Our commitment is and has always been to perform our clients' projects in a faster, easier, and productive manner. For this reason, all parts of our ultrasonic cleaning systems are designed to facilitate and accelerate its use.
For example, our elevator platform, activated automatically just clicking a button, is capable to lift very heavy weights, as large tonnage.  The auxiliary tank separates the grease, oil and dirt accumulated in the surface of the main tank. Then, the part is elevated one more time so it can be released impeccable. The multilingual colour touch screen panel enables the selection or customization of the different programs available in the memory of our ultrasonic cleaning systems: temperature, vibration frequency and time can be set according to the different needs of each part, and of course each client.
In addition, all of our cleaning systems are built with first-quality materials made of 100% stainless steel.  Only in this manner the system guarantees longer useful life for the machines, as well as a more homogenous cleaning result. However, thanks to the 70 mm thermal insulation of our equipment, our clients will achieve significant cost savings in their energy bill.  The increase of thickness allows a larger conservation of heat, which not only improves the cleaning results but also prevents consumption of large amounts of energy and reduces cleaning times.
The cleaning solution for ultrasonic cleaner is the best option.  Noise emissions are minimal, it saves energy and provides excellent cleaning results.  Do not hesitate any longer and discover the best results and the best services offered by UltraTecno for more than 50 years.