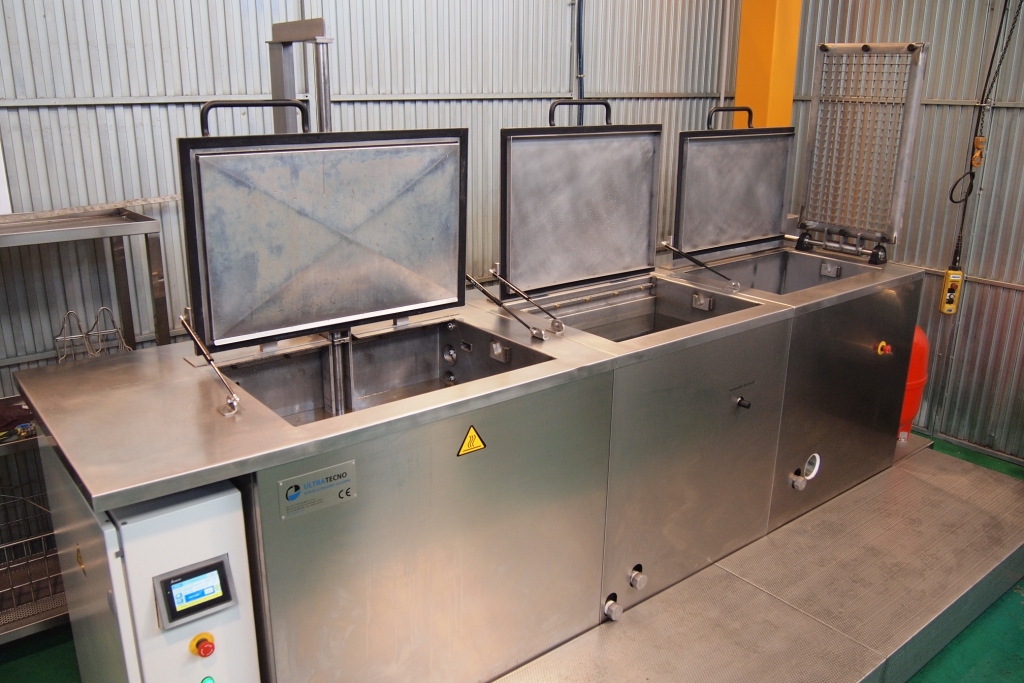 UltraTecno has offered for more than 50 years the best ultrasonic cleaning system services.  Thanks to our long experience, we have been for many years, and still are today, undisputed leaders in this field, whilst continuously improving our services.
In this sense, we know each client is unique, and so are their needs.  This is why we offer the possibility to design and manufacture customized ultrasonic cleaning systems, adapted to the requirements of each user.  On the other hand, we also offer different product lines in which our clients will probably find the solution they are looking for.
For example, our standard range of products includes an ultrasonic basket cleaner capable to support up to 3,307 pounds of weight.  The elevator tray or platform is activated through a pneumatic or hydraulic mechanism to guarantee a simple and lasting operability.
While the ultrasonic basket cleaning process, the parts inside the basket tray are shaken between 10 and 45 minutes (depending on the selected program), improving significantly the final results by reducing the length of the cleaning process. The parts will look sparkling clean once again at the end of each program.
Our ultrasonic cleaner tray is manufactured in stainless steel for a longer useful life, avoiding ultrasonic erosion and oxidation and protecting the parts deposited inside.
The trays or elevator platforms are fully automatically activated, thus preventing the operators from carrying out any type of effort, and accelerating the cleaning process.